The World Peace Through Technology Organization presents
The 17th annual How Weird Street Faire
May 1, 2016 from Noon to 8pm
in downtown San Francisco!

Join us as we gather to celebrate peace, dance in the streets, be inspired by art, shop exotic stores, make new friends and greet old ones, and appreciate each other's differences at the most diverse gathering this planet has ever seen.

Experience the fun. Feel the magic. Be weird!
Centered at
Howard & 2nd Streets, San Francisco, Earth
37°47'12.4″ N, 122°23'53.7″ W
.
Featuring…

10 stages of cutting-edge electronic dance music and live performances.
Featuring stages by Symbiosis, Opel, Opulent Temple, Muti Music, Pulse SF,
Enchanted Forest, Northern Nights, Underground Nomads, Hookahdome,
Party Babas, Mountain Lion Hi-Fi, Think You Can DJ, Huntinanny, and more!
Introducing the First Street Wrap Around this year!
Connecting Howard Street to Art Alley, with 2 live bands to entertain you.
Willie & Allie is a California country band, that plays upbeat honky tonk music.
Dr. Abacus is a jazz band, that plays a weird fusion of styles and influences.
Together they will provide fun and unique sounds for your stroll along the edge of the faire.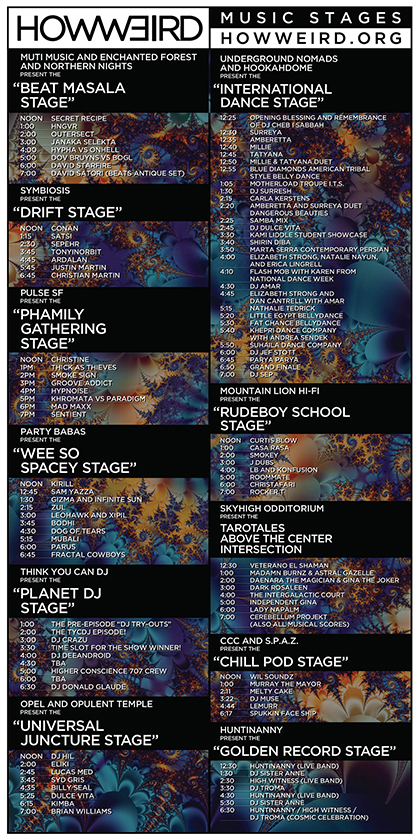 .
With even more inspiring live and exhibited artwork
on Tehama Street from 1st to 2nd Street this year,
with an extension across 2nd Street along with dub music.
Plus local arts and crafts vending, and downtempo music!
.
A unique and designer shopping experience
with vendors from around the world and delicious food and drinks!
.

It is only $20 for a Magic Sticker.
You can get it at the entrances to the faire, or one more day in advance online.
Enjoy all that the faire has to offer!
The Magic Sticker is your way to support the faire, and get something in return…
more specials, more discounts, more fun activities, more free things,
and more magic than ever before! Plus your contributions keeps the faire going.
The presales have ended.
You can still get the Magic Sticker at the faire entrances.